It's no secret. I love ottomans to make a decorating statement in my projects. They are workhorses for almost all interior spaces adding function, style and storage too. After a day of multiple client appointments, I relish the thought of resting my body by sitting in my favorite chair.  Plus putting my feet up on a bench or ottoman sounds like the height of luxury. Add a glass of wine and a good book, and I'm in paradise. (which is often the case). I have a variation of the ottoman below in my home.
Here are some ways to use ottomans and make a decorating statement:
Use as a Coffee Table
Here's why I love this ottoman ~the tray becomes a carrier for beverages or a container for flowers and so on. The wide edge becomes a 'perch' for family and guests when entertaining. The rectangular shape suits a sofa well as this ottoman is 60″ x 30″. When centered in front of a sofa and opposite 2 chairs it anchors a conversation area.
2. Use for Conversation and Storage
An ottoman is an opportunity to create a hub. With added textile, the color, pattern and texture enhance the seating plus mood in the room. Now that I'm a grandparent, I know soft sided tables are ideal for little ones and prevent head bumps. A hidden benefit and decorating statement is storage.
3. Ottomans are Extra Seats
Frequently we need extra seats and some ottomans fit that description very well as ~small seats. They are especially useful since you can tuck them away for those  occasions when you have extra guests. I am particularly fond of this one from Thomas O'Brien for Century Furniture and often use it in pairs.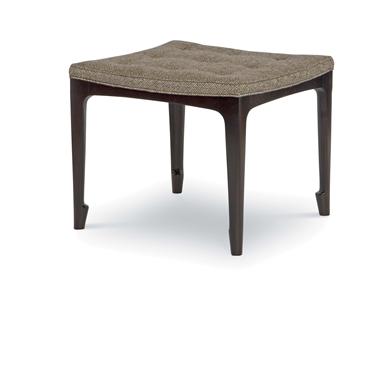 Please sign up for my monthly enewsletter. The sign up is at the lower center of our webpage and you'll also receive a copy of my favorite Pacific NW colors.