Put A Wreath On It ~ It's The Holidays
A wreath on your front door is your 'hello' to greet visitors for the holidays.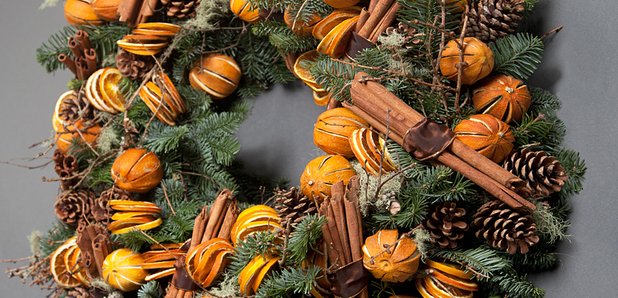 Your wreath sets the tone for the decor of your holiday collection. Maybe you have a theme, favorite colors and ornaments that you repeat each year. Or, on the other side, you love to have a new look each year.
Some things to keep in mind:
keep the items similar so the theme is consistent as in the photos
other items at the entry should repeat the theme as in the final photo
keep the wreath proportional, don't supersize it
maintain the style of your home in your design ~ is it formal and grand or casual and contemporary?
use the rule of 3 ~ maintain a design theme and keep to 3 elements
As a historical note, decorating and using a wreath is well established. Come this time of the year, they are everywhere. On lamp posts, cars, tables and more.
Because they are circular, they symbolize eternity. According to EnlightenMe, "holly represents immortality, for instance, whereas cedar stands for strength. But for many, the wreath's symbolic attributes are much simpler than all this. The Christmas wreath has evolved into a sign of welcoming and an acknowledgment of holiday cheer for this season that emphasizes generosity, giving, and the gathering of loved ones."
I return to my original comment to 'put a wreath' on it and add your personal greeting at your front door this year. Live greens are my favorite as I prefer the smells and scents of holiday decorations.
Finally, don't be stuck on red and green. Color sends a message and you have a favorite so why not include it in your holiday decor? I think navy blue is a wonderful complement and lends itself to all the traditional holiday decorations.