Used to be that this Seattle interior designer groaned when a client mentioned a 'recliner'. Some years ago manufacturers and PR firms coined the term, motion chair, and voila, the motion chair has interior design status.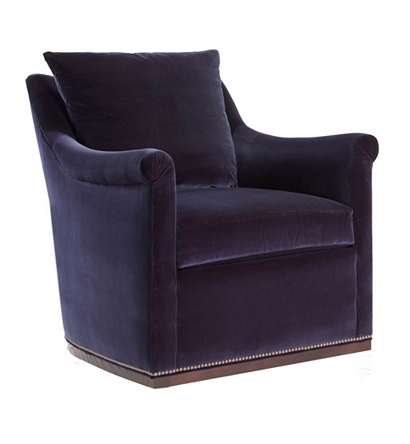 Look at the sleekness of these two chairs. When the motion revolution began, the furniture industry joined together comfort and style resulting in a chair you are happy to have in your home.  Motion chairs are so popular in today's market that they account for half of the lounge chair sales.  Trust 5′ 0″ me that they are carefully engineered to comfortably seat someone like me or my much taller son-in-law.
Speaking of 30 year olds, I see they don't have the negative stereotype about motion chairs common to their parents. Instead they love the the sleekness, the comfort and the many options for fabrics, leathers and trim detail like nailhead and stitching.
Young mothers like to add swivel glider motion chairs to the nursery or a sitting area near the master bedroom. These are great chairs for reading a book whether to your son or daughter or relaxing on your own with a favorite novel.
For many years I've liked the look of motion chairs from Jessica Charles. The added sizzle of color and pattern to the fabric makes them fresh and appealing. And they can go anywhere in your home ~ from great rooms, to bedrooms and media rooms.
I use a tagline of 'Comfortably Luxurious' as I feel comfort is a luxury. Your home is a place of comfort, a place of memories, and of inspiration–it's a welcoming environment that is true to you. In my interior design it's about
 The cozy chair, the familiar smells, the family photos
All the things that make us feel really good about coming home
Because when we put them all together, they feel like they're giving us a very warm hug as we enter our homes. If your ready to add that comfy chair, call this Seattle interior designer at 206.973.3743 or contact us on our website.